At my worst Augustus / September 2010, 120kg / 268lbs, 36% fat
Even after this turning point I was still completely inadequate at sports and I didn't have any discipline. I didn't even know how to properly contract my muscles to lift something. I had no body sense at all.
I asked my mate Chris to help me out. He was (is) a complete legend and instantly jumped at the chance to help a friend. We started doing his "half hour of power", lifted weights and ran as often as possible.
Well, I tried.
I had excuses. Many of them. "But I had a gig last night" or "I'm still too sore from last week". I was a complete pussy and it must have frustrated Chris. But he was strong and pulled me through.
As I finally saw some results I overcame my disciplinary problems step by step. I changed my diet and the fat started coming of quickly. I even gained some muscle.
I started researching and a whole world of broscience opened up to me. I did programs like P90X, 5x5, and 4-hour body.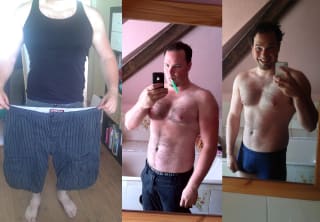 The thing that helped me most was my Facebook activity. I posted my weight daily. People would respond if it went up or down and it kept me motivated. This was the first time in my life peer pressure actually had a positive influence on my state of mind.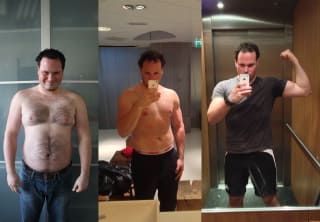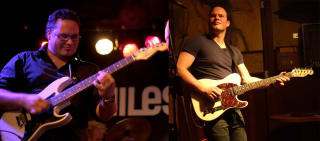 In April 2014 my wife and I moved to Paris. At that point I was vegan for half a year and I was at my lightest weight since I started training. We had to deal with different stress factors when we arrived and I let go of the strict livestyle a little and gained some weight again. The cheese, wine and French baguettes are too awesome not to enjoy. In January 2014 I got up to ~95kg and Paris had officially turned me into a croissant.
But I wasn't a croissant for long. I started lifting some weights again and slowely started to get back into it. When the marathon passed by our apartment in Rue Saint-Antoine in April 2014 I signed up on the spot. I became a long distance runner over night. New goals were set, and crushed over the proceeding six months.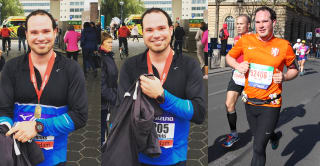 In 2016 I decided to run another marathon. I was hooked! This time I would do more weight lifting and less running. Balance is important in life. But I did not expect this.

I also blog about mealprepping.

By

Tim Benniks

on